Since 2014, Veganuary has inspired and supported more than one million people in 192 countries to go vegan for January – and beyond!
This year we reminded everyone that unlike many companies jumping on the bandwagon of Veganuary in 2022 "We've never sold meat… EVER". We love to see so many companies now supporting the movement, making it easier for those of us taking the Veganuary challenge that much easier. However, to then continue to sell meat despite the ad campaigns, just begins to looks a little silly.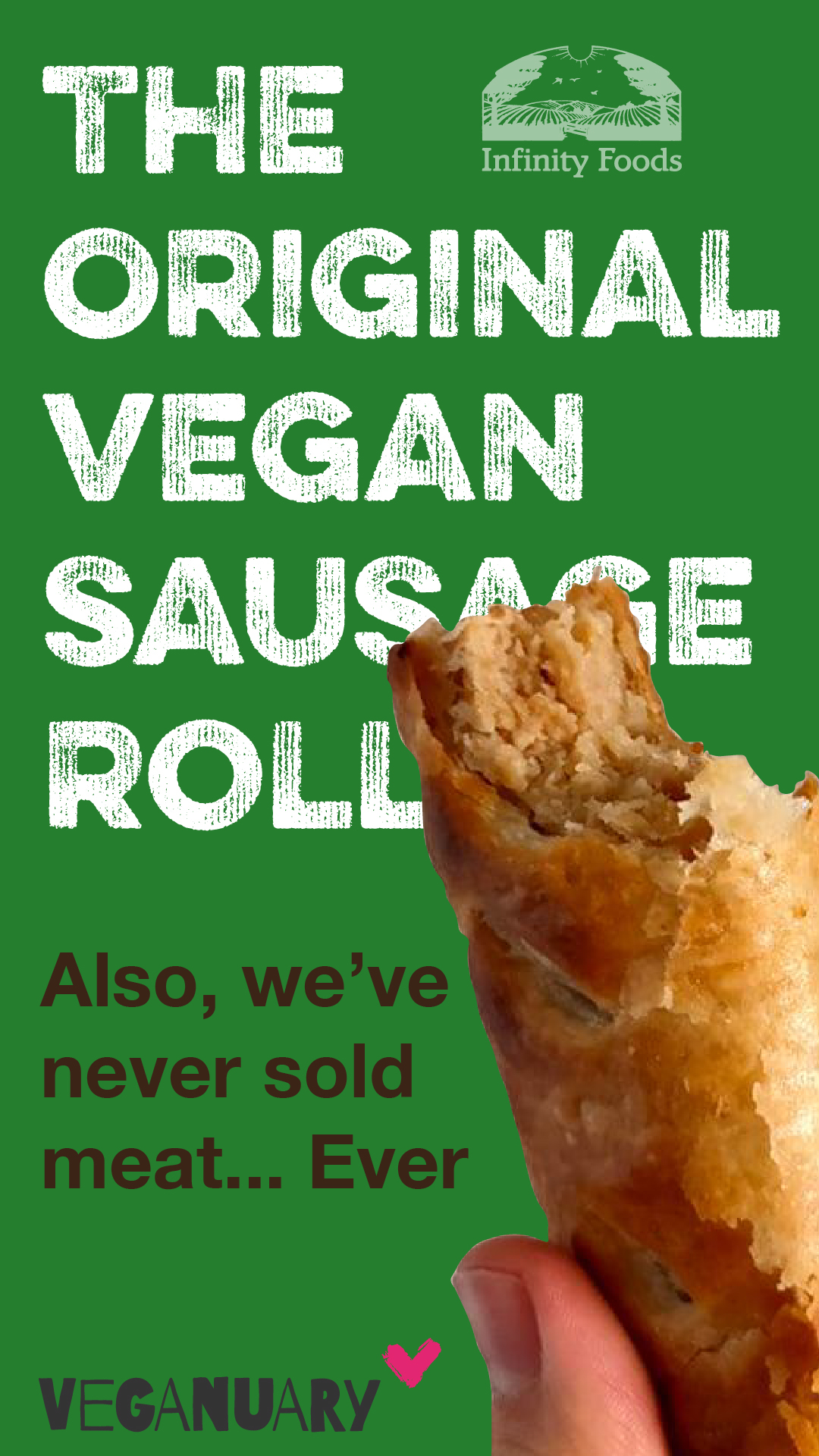 Our Vegan Sausage Rolls started well before Veganuary started and long before leading high-street bakery chains launched theirs. Our recipe has stood the test of time and is more popular than ever.
Here at infinity foods we promoted a wholefoods and plant based diet since for over 50 years. So, helping our community to think more about the impact of their lifestyle on many aspects of life is easy for us.
Veganuary is not just about a month with no eggs, milk, butter or meat. But is about global water use, carbon emissions and land use.  Here at Infinity Foods we are committed to supporting the environment, the food we choose to eat and where it comes from and how it is grown has a massive impact on our planet.  This is why not only is our Fresh produce section certified by the Soil Association, but we support numerous organic farms right here in Sussex and neighboring counties.  This means food with out the mileage, less carbon emissions and less reliant on the fossil fuel economy.
You may have noticed that many supermarkets are ending up in the papers due to their empty shelves, because of the impacts of Brexit and trade barriers. Well, we have got lots of fruit and veg as we support our local organic farmers, which means full shelves with more nutritious value.
We were also excited to announce that our branded packet goods are now all in LPDE film, which means its readily recyclable. The new packaging can be recycled at any 'carrier-bag' recycle point and soon to be available at our Brighton store.
We hope you have enjoyed Veganury 2022 and if you would like further information on how to stick at it for longer don't hesitate to ask a member or our team.
Also, we've never sold meat… Ever