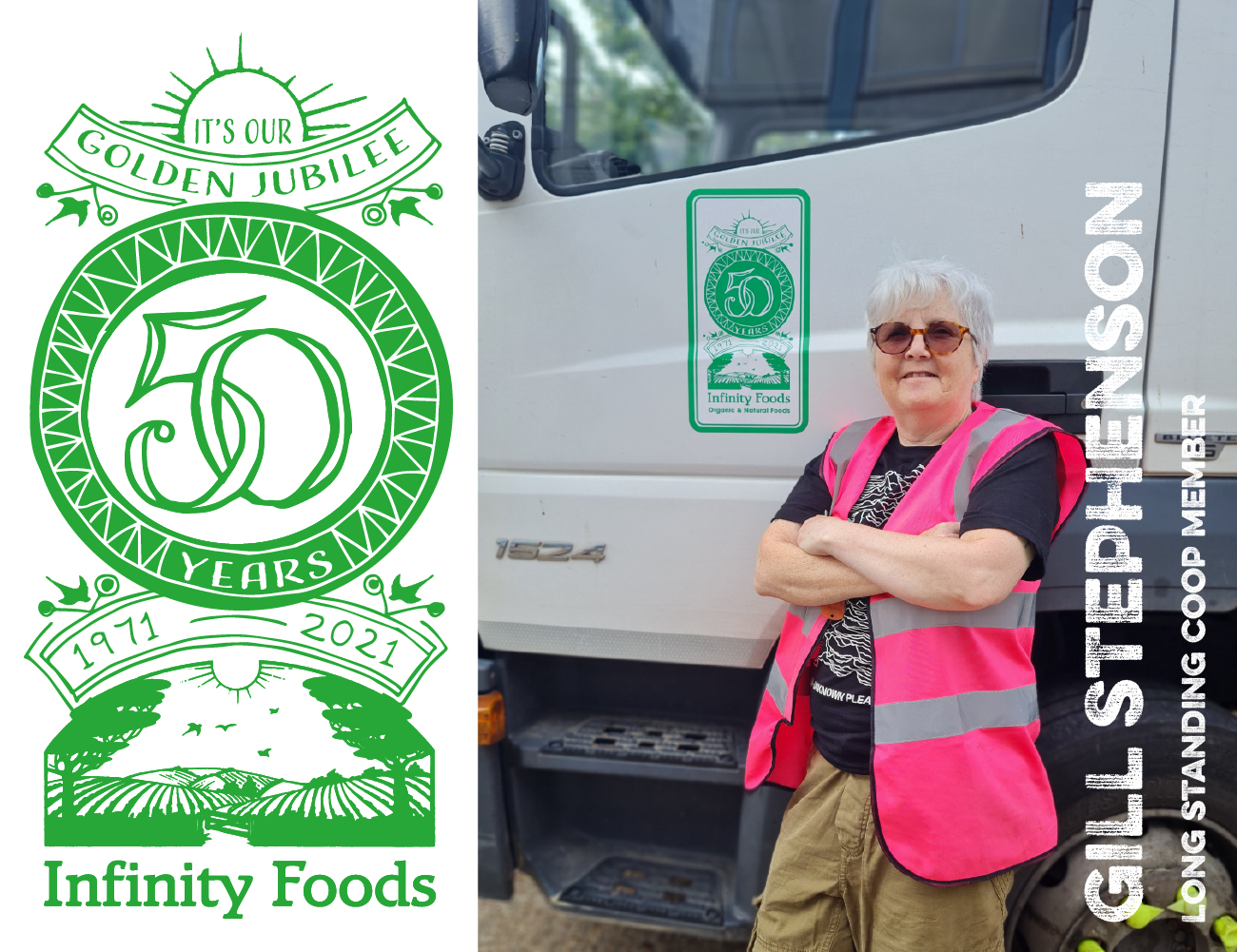 Worker co-operatives are like any other business. However, unlike conventional businesses its Members (workers) contribute equitably to and democratically control, the finances and everyday decisions of their co-operative. Members decide how to use surpluses (profits), ensuring their worker co-operative provides the pay and other benefits that members need and want, managing the business to provide them and protect its future.
Over the past 50 years Infinity Foods Cooperative Ltd has had some outstanding dedicated members, In this series, we will speak to some of our longest-standing members to ask why they have stuck around and about some of their memories.
Gill Stephenson: Long-Standing Coop Member
Infinity Foods Cooperative operates as a multi-skilled business, we like to encourage all staff to use every string to their bow which comes with greater job satisfaction and helps to keep the work interesting, Gill has definitely enjoyed that way of working. Gill has been one of our drivers for many years and at times get stuck into picking and collating.
What year did you start working here?
I started working for the co-op in 1998 seems like a lifetime ago.
I would love to know why you started working at Infinity? 
It was a strange way how I ended working for Infinity. I was teaching Mandy Freize colour guard (Flag waving routine) as we were going to lead the Pride parade that year. There was about 12 of us it was great fun. I was working for UPS as a driver when Mandy mentioned a driver was needed, so I got an interview got the job and never looked back.
Tell me about your favourite Infinity memory?
I think my favourite moment for me was when the shop asked someone to drive the Lorry for the shop to have a float in Pride. They set up a real loud stereo system on the back. During the long drive, the shop staff were dancing so much around on the back that the cab was bouncing up and down to so I had to grip the steering wheel to stop me bouncing out the lorry, much to the amusement of the crowds of people watching.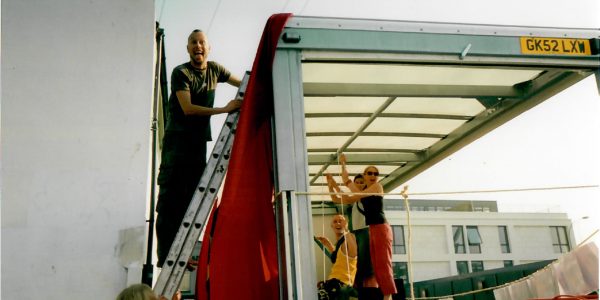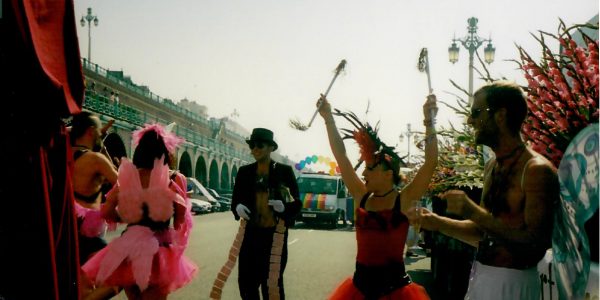 What do you love about being in a workers cooperative?
I love Infinity because we are all equal here and each member gets a vote on all changes as the business grows.
And also having equal pay as the men is a good thing.
What has been the pull that makes you stay?
I have stayed so long and will not be retiring soon because it is like working with a family. We all know each other well.  Plus I have done so many different roles within the coop, I can do pretty much any job here so it stops you from getting bored with just doing my job day in and day out.
What do you love about Infinity most?
The ethical way we try to run this business is a big thing for me. I really don't think I could ever work for any other company ever again.
What do you look forward to for Infinity in the future 50 years?
I'm hoping in the next 50 years we still try to do the right thing for this planet we live on. We have been looking into electric trucks for the future so watch this space, onwards and upwards I say.