The situation with COVID-19 has now meant much stricter social distancing rules, but we want to reassure you all that we already have methods in place to keep our staff and customers safe while following government advice and guidelines. 
Our opening times have now returned to normal (Mon-Sat 9:30-18:00, Sun 11:00 – 17:00)*, we currently still have reduced staffing levels and thank everyone for being patient with us.
*From December 5th we will be open for longer so that our customers can shop more safely over this busier time. Mon-Sat 09:00-19:30, Sun 11:00-17:00
In line with the government reducing the 2-metre social distancing rule, that means staying approximately 1 to 2 metres away from one another and the staff, so please remember to queue respectfully using the floor-graphics and prompts and give each other space.
Our simple message is No Bunching, Shop and Go, Keep the Flow. You may be asked to wait and form a queue outside the shop if we are at capacity, we now have 6 tills that are fitted with screens to help with a swift shopping experience.
Tip: Make a list before shopping, this way you can be in and out promptly, which allows another person into the shop and helps to reduce the waiting time outside.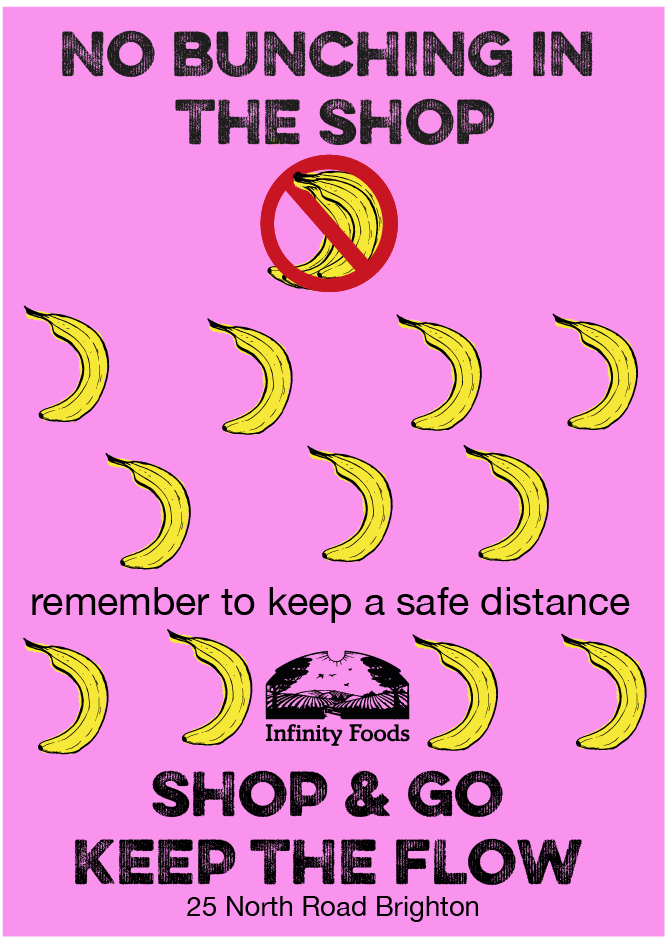 We have introduced screens at all the tills which are to protect staff and customers, please ensure you stand where prompted so that we can ensure the screens are being used correctly.
It is mandatory to wear a mask or face covering in shops, if you have forgotten or do not have a mask, please ask at the door and you will be supplied with a single-use mask or you can purchase a reusable mask. To ensure the safety of our staff and fellow customers, please wear your mask correctly. How to wear a mask correctly.
We would also like to remind you that some of our customers have invisible disabilities which make them exempt from wearing a face-covering or mask, this does mean they are potentially at greater risk to covid-19, so please treat all customers with respect.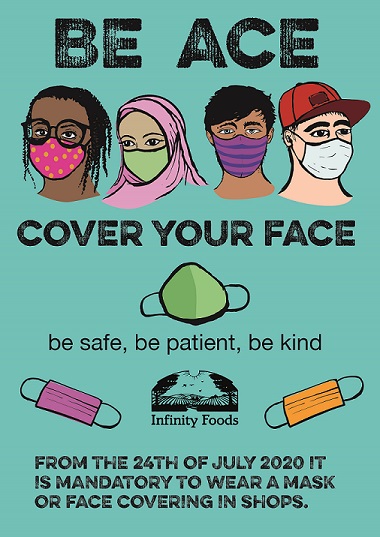 Contactless card payments are preferred, this is to help stop the spread of infection through the handling of cash and touching card machines. ** Contactless payments are of a maximum of £45, but on apps such as Google Pay & Apple Pay customers can pay over £45.
We are still receiving stock almost every day, but due to a national high demand for some essentials please appreciate we are doing our best to re-stock shelves.
On top of our usual cleaning, we are sanitising common 'touch points' on an hourly rota throughout the day, such as refill area, tills, scales, card machines, door handles etc.
Thanks and solidarity from Infinity Foods Shop Co-Op