As this year comes to a close there are many things to look forward to next year.
But let's focus on the present. We have decided to help you end this year on a high note of great food and wine with our longer December opening hours, starting from Saturday 5th December
… wait did someone say presents?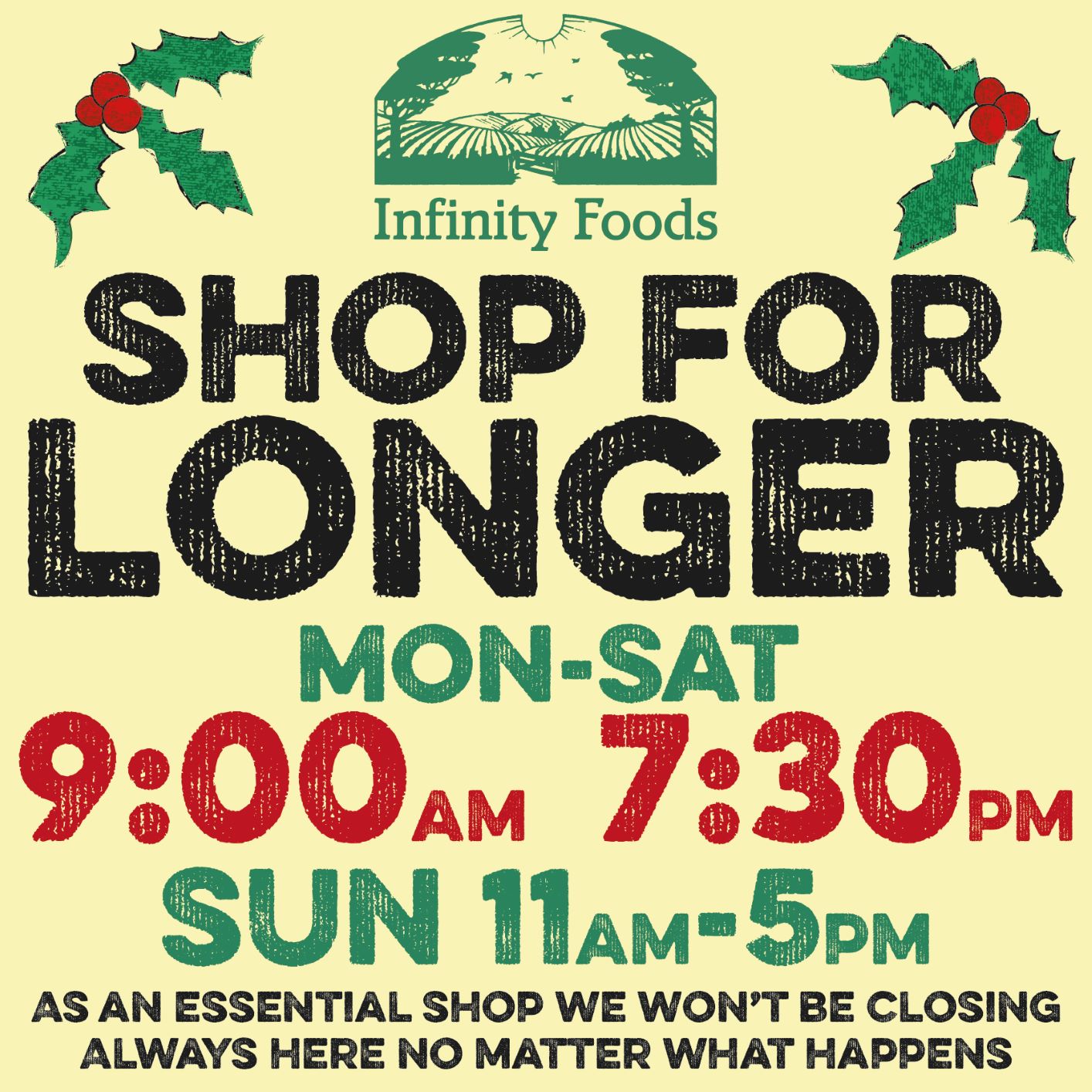 Gift vouchers

What is the Infinity Foods Gift Voucher?
The Gift Voucher can be used to provide funds to another person, whether that's a friend, family member or volunteer, who is conducting your grocery shopping on your behalf, they are a great way to make sure funds are available for your shopping needs without the need to leave your home.
Most of all they make great presents for this festive time of year.
*They can only be used at Infinity Foods Shop & Bakery in Brighton, and are available for collection only.
How do the Gift Vouchers work?
You can buy Gift Vouchers online and they'll be reserved for collection in-store, removing the need for you to handle physical money, or pass your payment card details on to a friend or family member. The recipient can then use the Gift Voucher just like cash at any till. To collect your Gift Voucher, just speak to a member of staff.
---
Festive opening times
Infinity Foods Shop and Bakery is essential to so many, one of the largest natural and organic shops in the country and certainly the largest in the south. No matter what the lockdown measures we won't be closing. This year we have worked so hard to ensure our shelves are as full as possible and the shop is covid safe. We thank everyone for their patience as we made lots of changes to keep everyone safe. With that in mind, I'm sure you all agree we need a little rest, please see our festive opening times.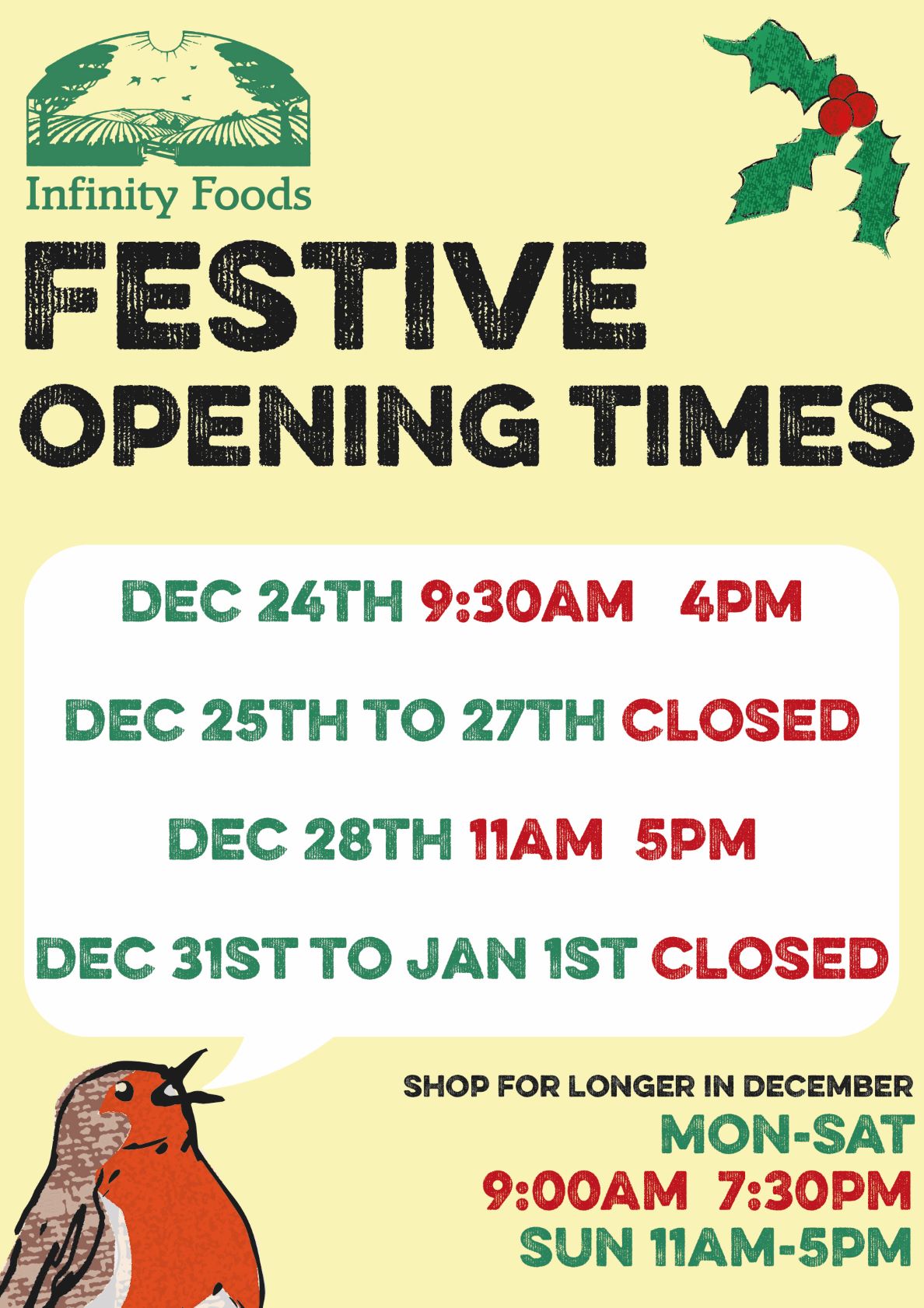 Home Delivery

If you can get to us, do not worry. We have teamed up with Click It Local to offer our community and the residents of Brighton & Hove and slightly a far a home delivery service of essentials and key product lines, Including all the festive trimings, gifts, presents, cleaning products and all the organic fruit and vegetables and baked goodies you are used to finding in store.
Organic Artisan Bakery
We are extremely proud of our bread, and we are always excited to get the seasonal baked delights on the shelves, we have been baking on site since 1976. Since those early days our range has expanded but the bakery still thrives on its original aims of producing additive free, freshly baked goods from organic ingredients. That includes or famous mince pies, Christmas puddies made from sctrach in store and of couse the freshly baked stollen.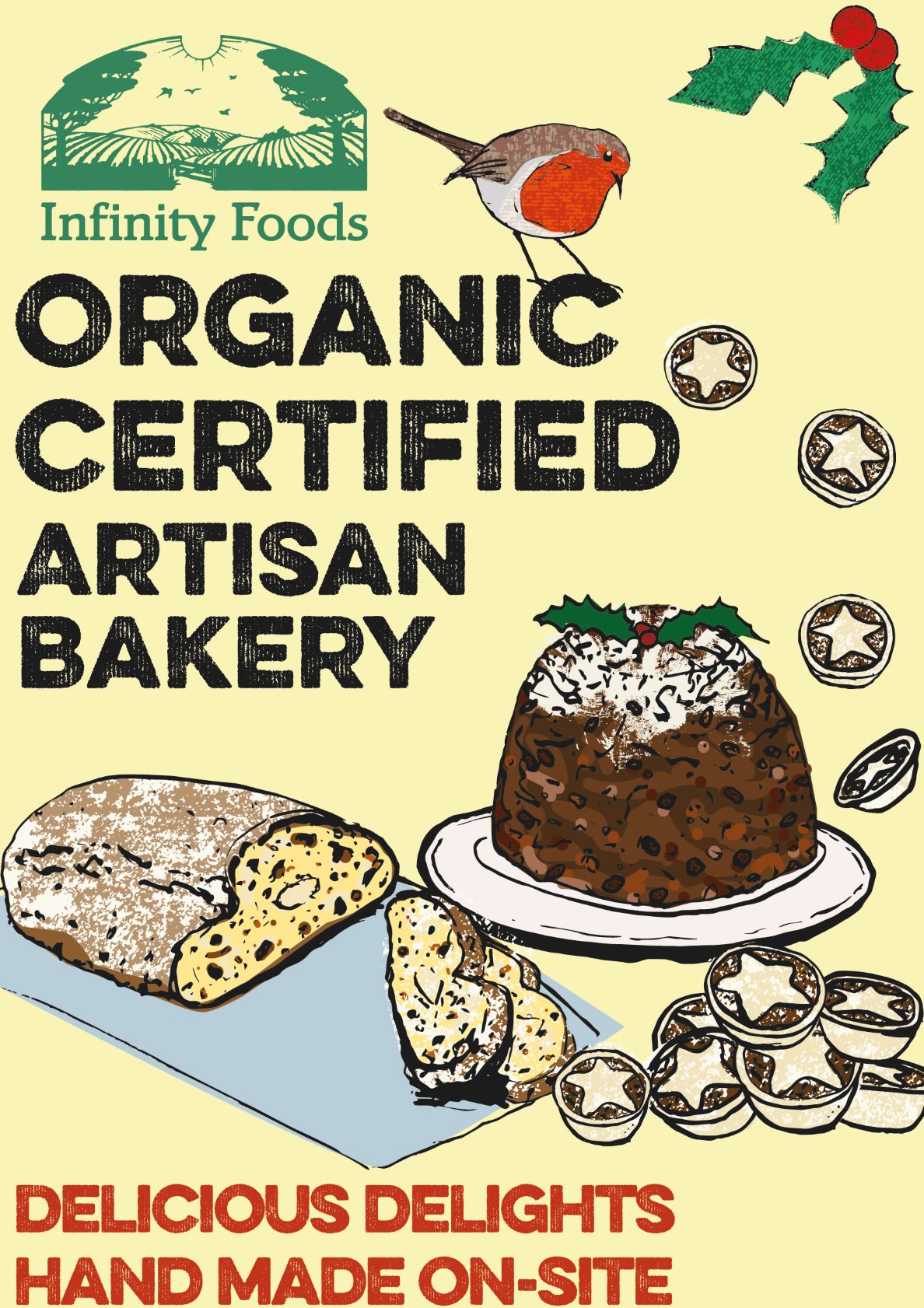 organic fruit & vegetables
Check out out Seasonal Fruit and Vegatable chart here. Our fruit and vegetable section is certified organic by the Soil Association and as much as possible is sourced locally. Sourcing locally and building strong relationships with nearby farmers and growers has been central to our ethos at Infinity since the 70s.
One of the rewards of this is that at a time when demand often outstrips supply of locally grown organic produce in other shops, and supermarkets sell tired looking produce, often heavily packaged, we are able to provide our customers with vibrant, freshly picked produce straight from the farm.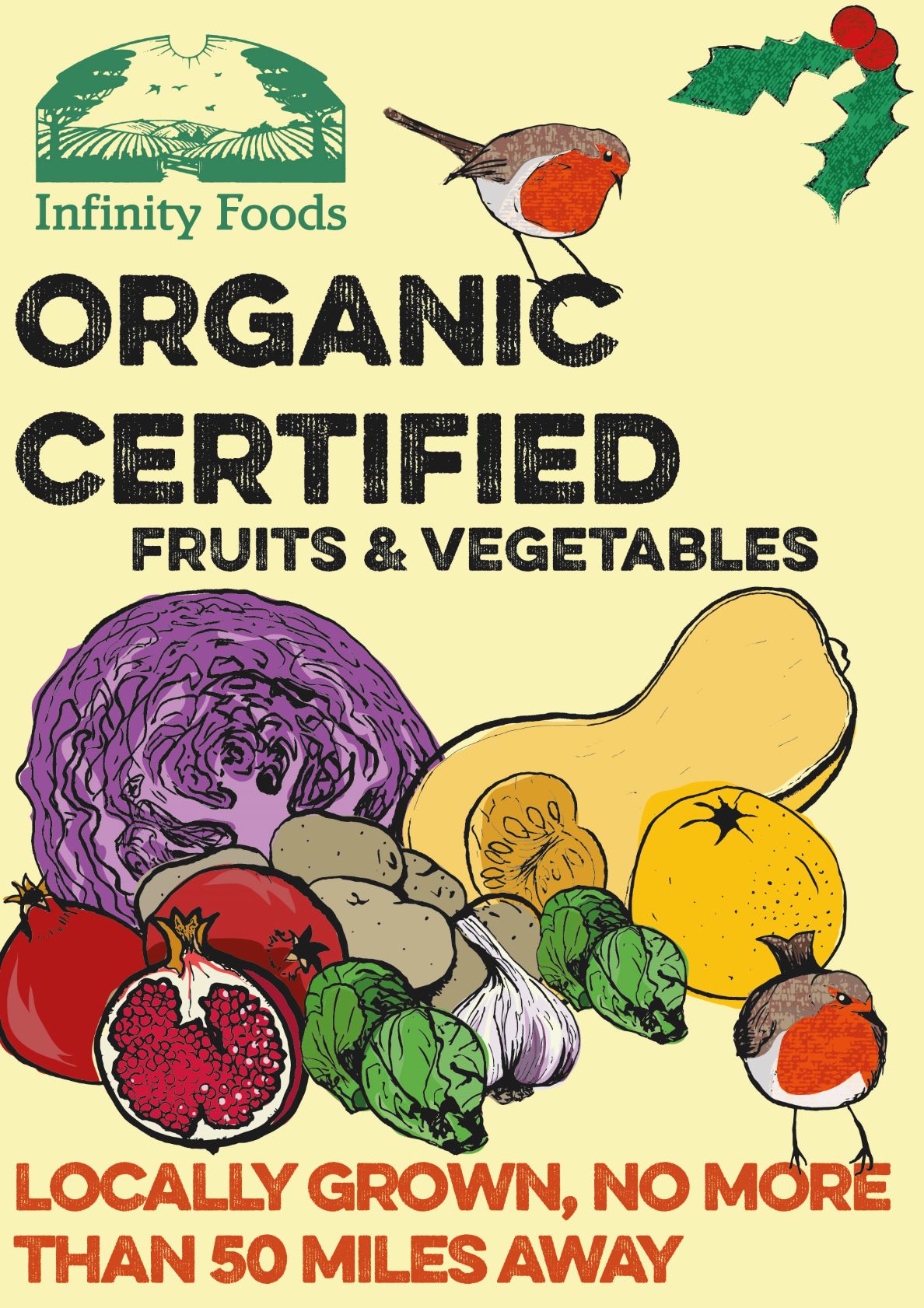 from 9am to 7:30pm during december
starts December 5th