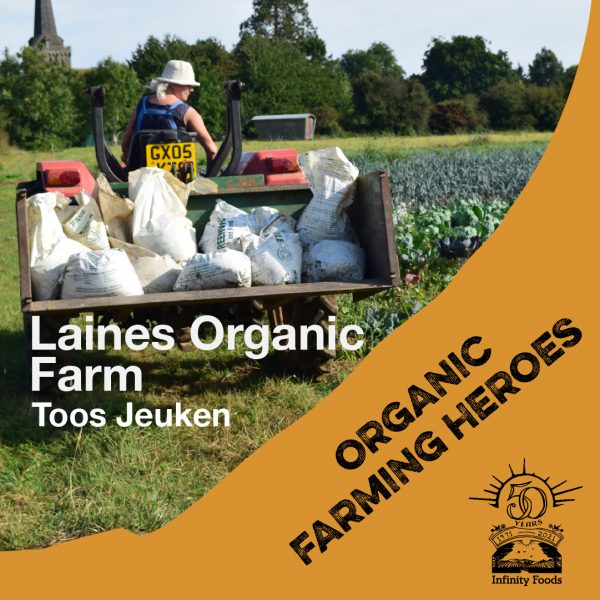 My name is Toos Jeuken from Laines Organic Farm
At the end of 1978 Toos Jeuken travelled on her bicycle from Holland and began farming here in Cuckfield. Laines Organic Farm grows organic, traditional, seasonal, outdoor fruit and field vegetables for local people and local whole-food shops. The farm is a flourishingly diverse and lively array of fruit, veg and artistic activates! The soil at Laines is called Horsham-Green-Sand, a wonderful sandy structure perfect for vegetable growing. It rewards Toos with tasty, healthy, colourful and fresh produce, year after year. Her aim is to keep the soil in good condition through organic and biodynamic practices. The autumn and winter crops stay in the field and are picked when ready or needed. Over the years she has tried to avoid using plastic packaging materials. Many people have seen her with elastic bands around her wrists, which are used for bunching up veg. Wwoofers, students and volunteers come from all over the world to help in the busy summer months. Toos is one of the original suppliers of Infinity Foods in Brighton, growing special varieties of squash and pumpkins for their customers, and continuing to do so decades on!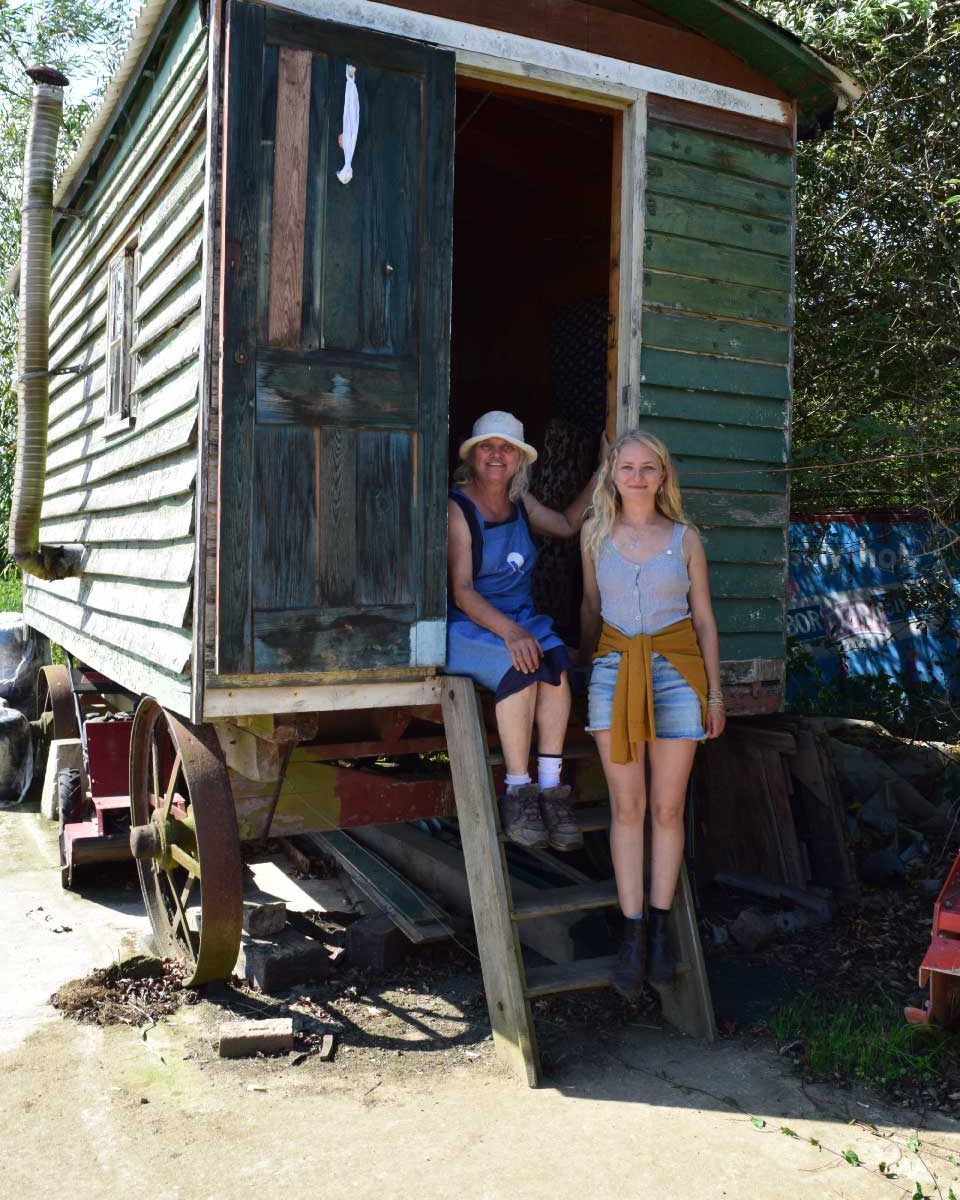 How long have you been supplying Infinity Foods?
Toos has supplied Infinity right from the get-go! At the beginning the product Toos grew specially for infinity was red kuri and other Japanese squash due to the nutritional qualities and that they were in keeping with infinity's, then, macrobiotic values. We still grow a whole range of pumpkins and squash today!!
What are your main crops and why?
A seriously wide range, of field, outdoor, biodynamic traditional and seasonal fruit and veg! Potatoes, cabbages, kale, squash, strawberries, raspberries, the list goes on and on…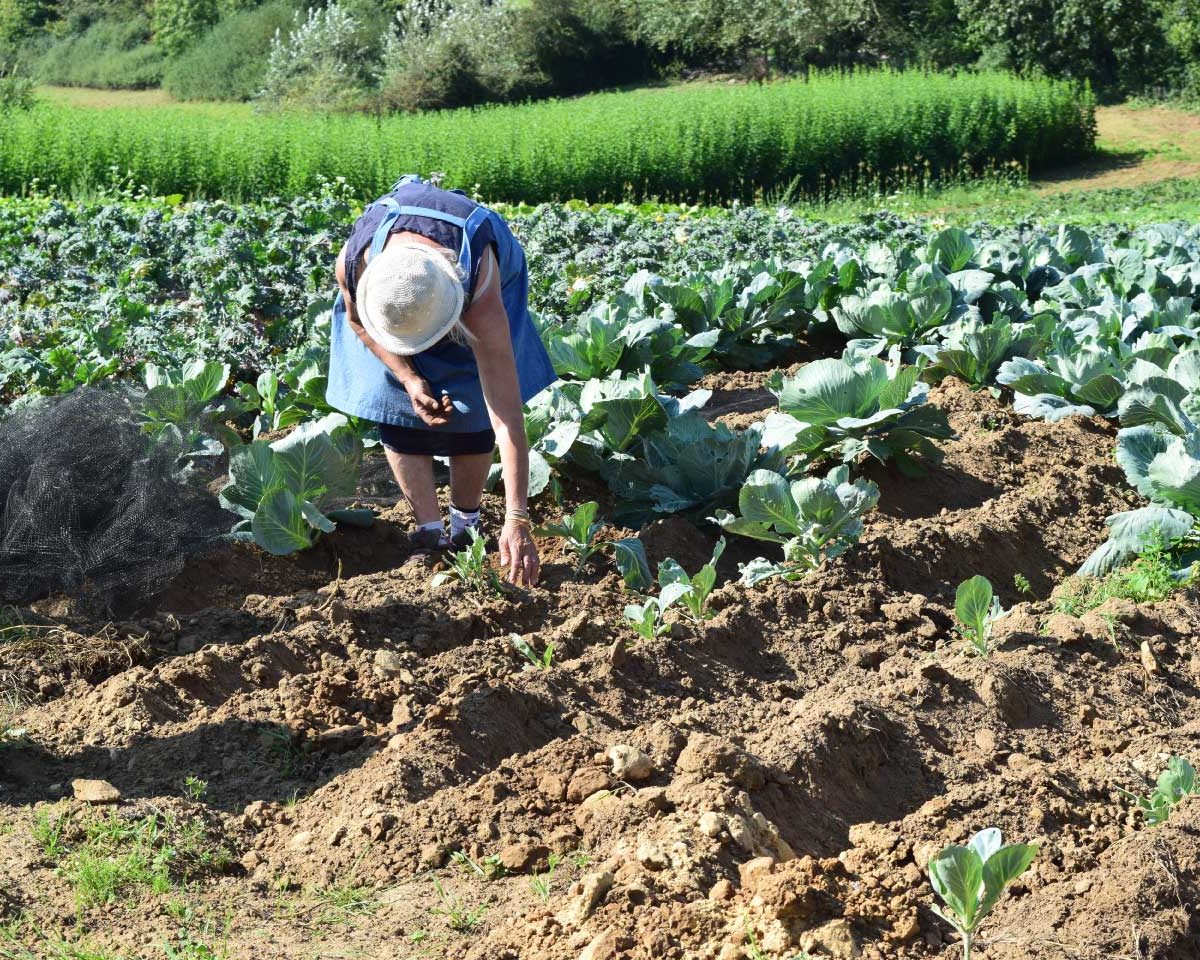 What have been this year's challenges with your crops and farm?
The cold late dry start to the season and then the wetness which has brought with it so many weeds!
What is the best thing about farming organically?
It feels so great and valuable. Its feels like real lived activism! And sinking my hands into the rich well cared for ever giving beautiful sandy soil at Laines is such a wonderful feeling.
What wildlife or plant diversity are you encouraging on your farm and why?
I love all the butterflies and have noticed this year there have been loads of different types which is great. We have introduced bee hives this year and have sown lots of wildflower mixes and planted new fruit trees and willow for basketry. The flower garden also grew in variety and scale. We have left some areas to grow wild and really appreciate all the insect life that can thrive in these areas and try to not intervene there or intervene in stages so they can run away to other areas.
The weeds are extremely prolific this year…. don't think toos is too happy about that. Its stressful af. But I try to see also the benefits of having such a variety and an abundance of weeds.
Find Laines Organic Farm produce in the organic veg section at our Brighton Shop & Bakery.