40 mins total

Easy

enough for 6 large wraps

Vegan
No waste Meals for Less
A product we've noticed become popular this season are rice paper wraps. Summer and spring rolls are a delicious dish and great for sharing. Rice paper is about £2.70 for 22 sheets and not always in your cupboard. Not so much a weekly staple as a weekend feature.
Enter that half a lettuce you've got slowly wilting in the fridge…here's an idea that is filling, cheap, easy and no-food-waste friendly!
The lettuce can easily be substituted for any firm leaves – chard (you can blanch these for 10 seconds to make a bit more flexible), spinach etc.
This is a recipe you can make from scratch, but the best bit is, if you have leftover noodle or rice stir fry, you've basically already made this dish! If you plan your meals you can have a tofu noodle stir fry on Monday, and enjoy these wraps for 1 or even 2 lunches or dinners later on in the week.
The main star – and most of the work – of this recipe is the delicious sauce. Happily it contains staples that you most likely already have in your cupboard. The sauce is doing 2 jobs – coating all the other ingredients and adding flavour. So if you're missing an ingredient, or want to leave any out, like the chilli or ginger, no big deal. Experiment!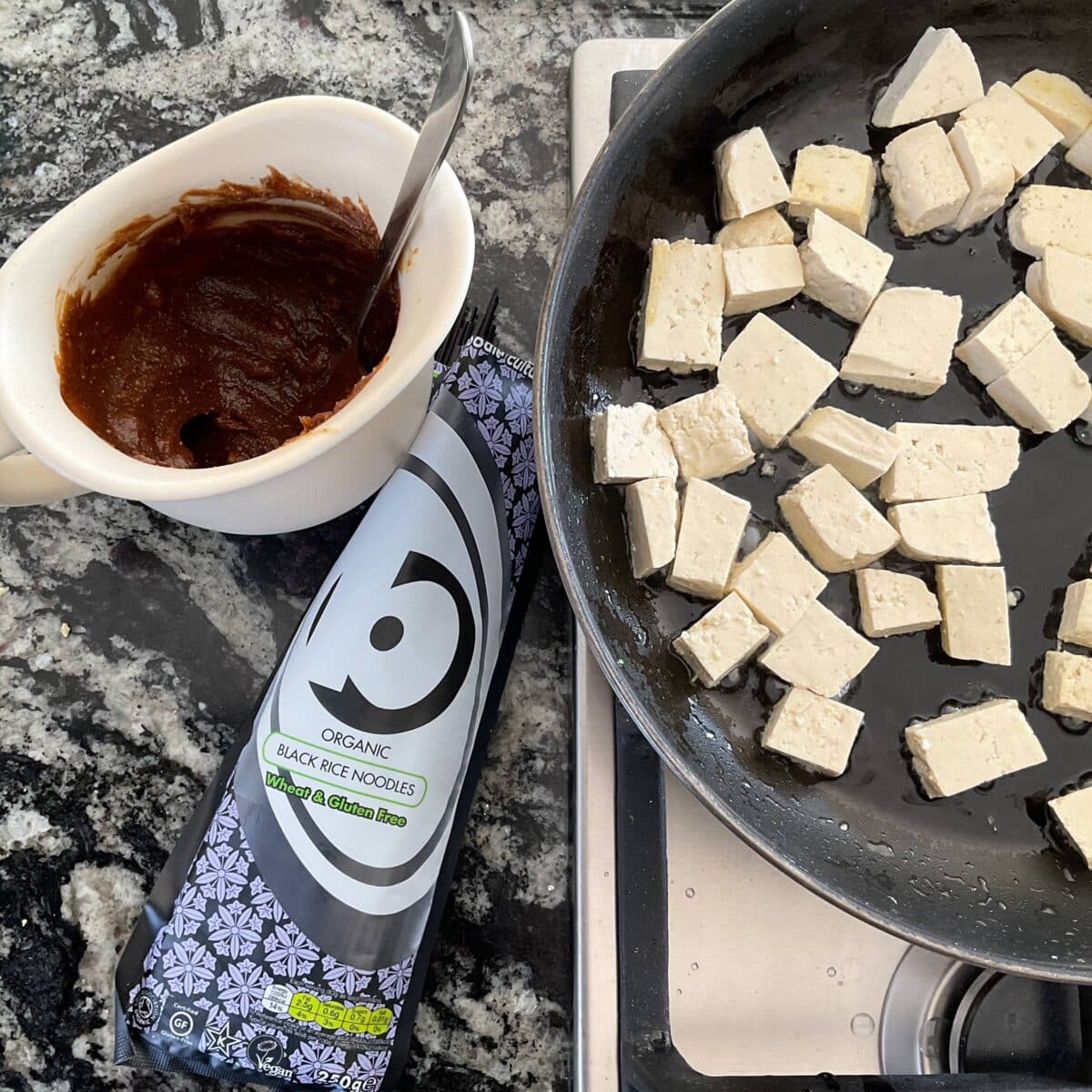 Method
Soak your noodles according to packet instructions, but you want to make sure they are really soft and flexible, so soaking for 30 minutes is a rough guide.

Mix all your sauce ingredients together. You can make more by adjusting amounts and store in the fridge for 3 days.

Cut your pressed tofu into cubes and fry in a little oil in a non stick pan until it crisps up, about 15 mins. Add half the sauce and stir continuously for another 3-5 minutes. You're cooking off the raw spices a little here so seeing the sauce brown is expected.

Transfer your tofu to a bowl and add your drained noodles to the pan with a little more oil. Add half the remaining sauce and stir to coat. Add the tofu back to mix and remove from heat. You can add a splash of water if it's too sticky.

Assemble your wraps! If you're making these fresh, let the mixture cool a little to avoid wilting or tearing your leaves too much. If you have firm lettuce, like a gem or iceberg variety, simply take a leaf and add a dollop of mixture, and eat like a scoop. If you have a larger or softer leaf, think spring roll – add a small dollop of mixture and fold the bottom up first, then roll the sides around and eat like a wrap. If you're packing a lunch, it's easier to keep the leaves separate from the tofu noodle mixture until you're ready to eat.

Eat!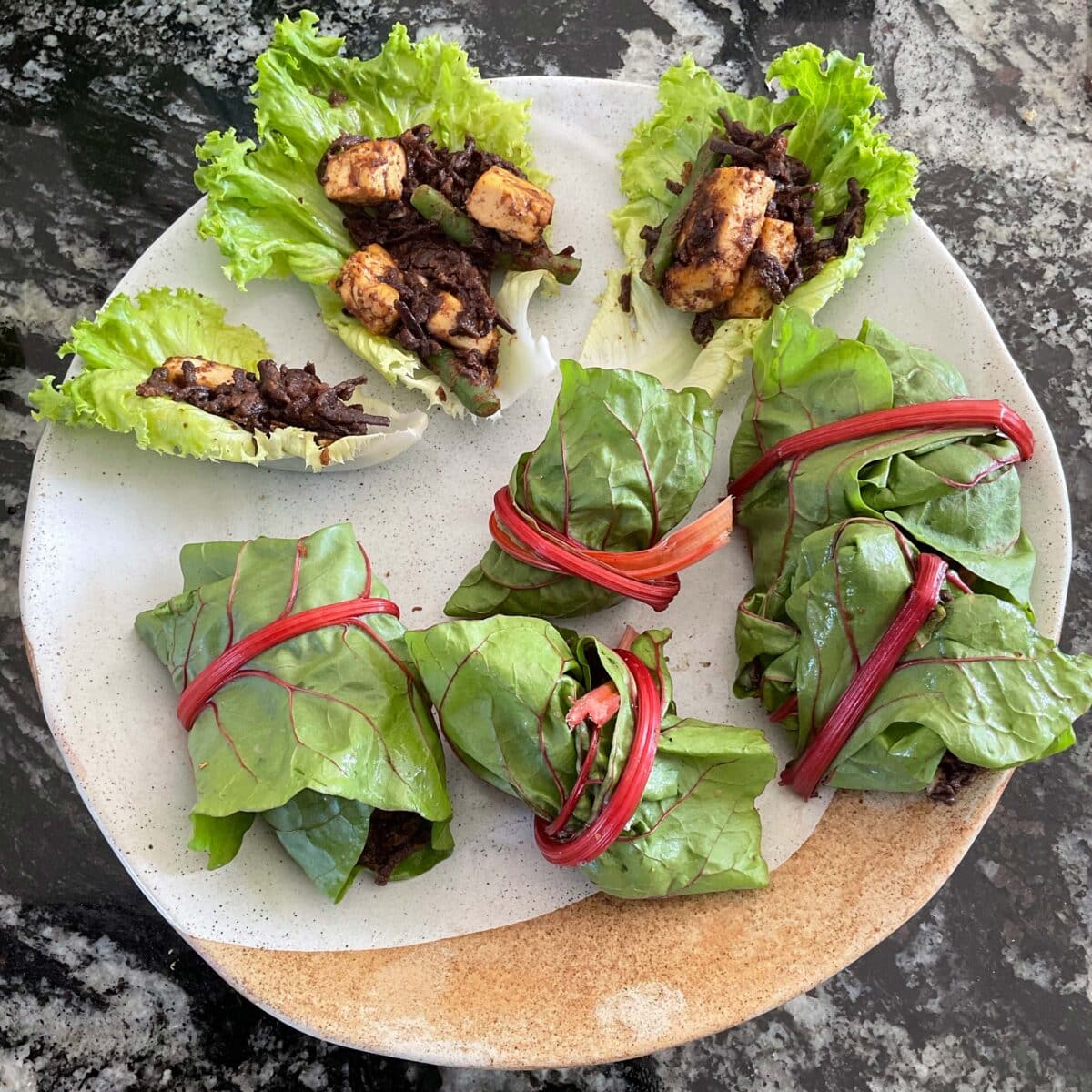 Make this idea go even further!
This idea of using a few leaves in place of expensive wraps can be taken even further:
Use the last bit of houmous in the pot, mixed with little bit of curry paste as the flavour base, spread on your leaves before filling with any leftover tofu, lentils, beans or grated veg, making a super healthy and frugal meal.

Mixing a tablespoon of peanut butter with a drizzle of soy sauce and a tsp of curry paste makes an instant flavourful sauce to stir through noodles or rice. You don't need a cupboard full of expensive condiments!
Adapted from https://pinchofyum.com/vegan-lettuce-wraps